ONLINE ADVICE - GET YOUR SECOND/EXPERT OPINION
Dental implants Vienna Mitte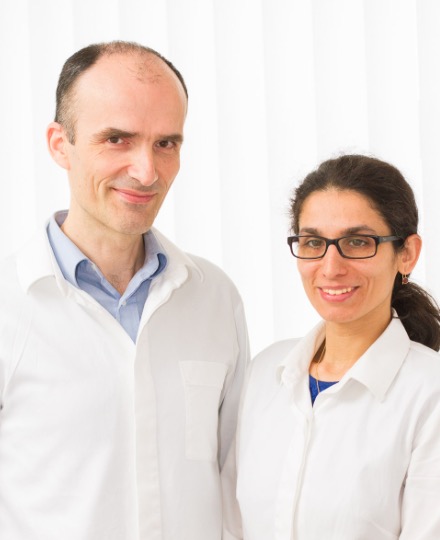 Your specialist for computer-assisted dental implantation
We, Dr. Nadya Ali and Dr. Andreas Zizlavsky is a long-standing specialist in computer-guided implantology and dentistry. Together as a team we run the private practice in Vienna Mitte (1030). With the help of state-of-the-art techniques and equipment we are able to offer you the best treatment.
Dentist Wien Mitte offers you more comfort in implant treatment. From the diagnosis to the prosthetic-oriented treatment planning to the insertion of the dental implant.
Top 17 Best Implantologists 2017
The business magazine Trend (issue 04/2017) has been awarded.
In Austria, 200 dentists were interviewed, to which colleagues they would go themselves and who the best specialists are. Dentist Wien Mitte is one of the 17 best implantologists in Austria.

Modern technology meets precise dentistry
Zygoma implants are special implants, which are placed directly into the zygomatic bone (Latin: os zygomaticum - hence the naming) due to their special length of about 5cm. The human zygomatic bone has a very suitable bone structure and density for the insertion of implants, so that one can expect a very high stability even before implantation. By taking advantage of these bone structures, in many cases costly bone augmentation procedures in the upper jaw (e.g., sinus lift) can be avoided. The advantage for the patient lies primarily in the enormous shortening of the treatment time and the very early loading possibility of the implants. In many cases, the final dentures can be used in just a few days after surgery, thus completing the treatment for the patient.
See how an online medical visit works
Advantages
One of the great advantages of online advice is how convenient and flexible it can be. You can start a session anywhere, at anytime, as long as you have a device that can connect to the internet.
How do i start a live session?
Click on register for a single access session and sign in for free.
Read and accept the terms and conditions. Make sure you fill up the payment form.
Send us your current findings (x-rays) by e-mail.
You will then be offered the earliest possible appointment as soon as possible.
The video meeting with a diagnosis meeting is taking place. A salary cost plan is put together.
Discussion of the further procedure. A treatment in our dental office is recommended.
Prices
It is only based on the findings of the patient. Further costs and examinations will be available in the dental office.